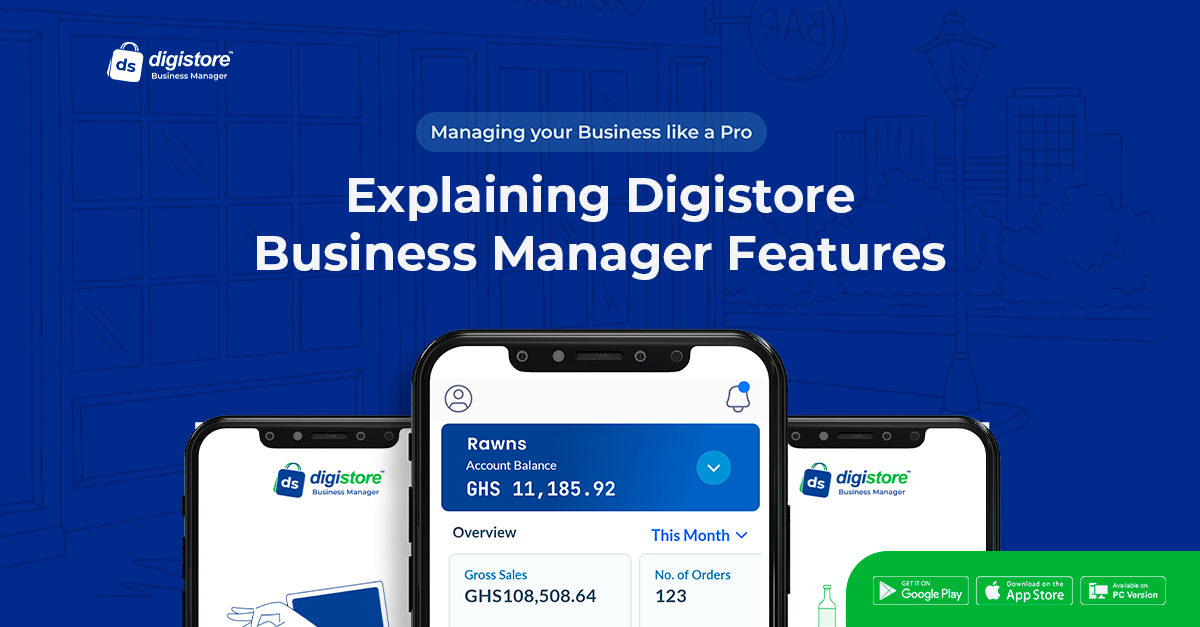 At Digistore Business Manager, our mission is to empower your business and help you manage your business effectively. We are dedicated to providing you with every tool necessary to run your business like a pro. Each feature on Digistore Business Manager is carefully crafted with the ultimate goal of revolutionizing the way you manage your business.
In this comprehensive post, we'll walk you through all our present features on Digistore Business Manager. By the time you finish reading, you'll have a deep understanding of each feature, its purpose, why you should start using it, how to leverage it effectively, and additional insights. The features are presented below without any particular order, as each one holds tremendous value for your business.
Business Insights & Analytics
Understanding your business's financial flow is crucial for success, yet it often goes unnoticed and undervalued. Even large companies can struggle to meet targets or overcome setbacks without proper expense and income tracking. At Digistore Business Manager, we recognize the significance of this aspect, and that's why we offer powerful Business Insights and Analytics tools to help you stay in control. With our comprehensive Business Insights and Analytics feature, you can gain valuable real-time insights into your financial performance. Easily track your income, expenses, profits, and losses, enabling you to make well-informed business decisions. Our platform empowers you to generate detailed reports, providing a clear overview of how your business is running.
Record Sales & Issue Receipts
Take charge of your sales and streamline your transactions with Digistore Business Manager. Effortlessly record each sale and issue receipts in a snap, ensuring precise financial records and a professional customer experience. With our intuitive platform, managing your sales and generating receipts has never been easier. Experience the convenience of Digistore Business Manager and stay in control of your business transactions.
Take your payment processing to the next level with Digistore Business Manager. Accept payments from a variety of channels, including mobile money (Momo), Visa cards, and more. Seamlessly track your payments and expenses in one centralized platform, simplifying your financial management process. With Digistore Business Manager, you can offer your customers the convenience of multiple payment options, increasing their satisfaction and driving sales. Embrace the flexibility and efficiency of our payment processing features, ensuring a smooth and secure checkout experience for both you and your customers.
Sell Online & Across Multiple Channels
Reach a wider audience and expand your online presence with this feature. Effortlessly share your shop link on any platform, from social media to email newsletters, and give potential customers access to your complete product range. With just one click, your potential customers can explore your entire inventory, making it easy for them to find what they need. Whether you're selling on your website, social media platforms, or other online channels, Digistore Business Manager ensures a seamless shopping experience for your customers.
Order & Inventory Management
Effortlessly upload your products to the platform, ensuring they are ready for sale in no time.
With our user-friendly interface, managing your stock becomes a breeze. Keep track of product quantities and stay organized with our centralized order management system. No more juggling between different platforms or spreadsheets – Digistore Business Manager simplifies your operations, saving you time and reducing the risk of errors.
Customer & Loyalty Management
At Digistore Business Manager, we understand the importance of building strong and lasting relationships with your customers. Gone are the days of being just another face in the crowd. With our comprehensive Customer & Loyalty Management feature, you can now know your customers like never before. Imagine knowing your customers' names, preferences, and even their birthdays! Digistore Business Manager allows you to gather valuable customer information, empowering you to be proactive in reaching out to them and providing personalized experiences. Remembering their birthdays and sending warm wishes can make them feel appreciated and valued, strengthening their loyalty to your business. But that's not all – with our loyalty points system, you can reward your customers for their continued support. As they accumulate loyalty points with every purchase, they can take advantage of exclusive discounts and special offers. Your customers will feel like VIPs, encouraging repeat business and boosting their spending.
Grow your Customer Base & Earn Extra Income.
Digistore Business Manager has another feature which is a way to charge your business growth. By offering beloved services such as Airtime Top-Ups, Utility bill payments, internet bundle purchases, and more, you create a compelling incentive for customers to visit your shop regularly. What's even more exciting is that you can earn commissions on each transaction, turning these beloved services into a lucrative revenue stream for your business. This feature not only boosts your shop's visibility and attracts new customers but also strengthens customer loyalty as they come to rely on your shop for their day-to-day needs. Embrace this feature, and watch your shop flourish with increased footfall, higher spending, and an additional source of income, all while providing unparalleled convenience and value to your customers.
We are thrilled that you now recognize the incredible value of all our awesome features at Digistore Business Manager, and we can't wait for you to experience the full potential of our platform to run your business empire.