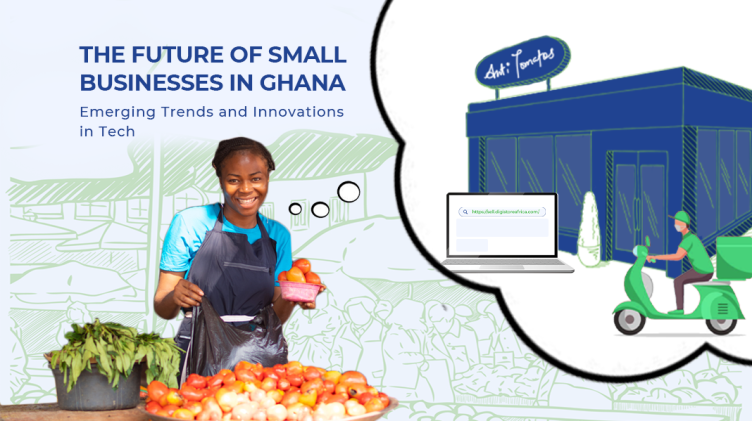 The Future of Small Businesses In Ghana – Emerging Trends and Innovations in Tech
As a software company that seeks to empower young entrepreneurs, we can see how quickly and effectively technology has opened doors, connected people from remote communities and transformed businesses. Innovations in technology have provided new opportunities to women, vulnerable groups and to young people. The future of small businesses in Ghana is exciting and filled with opportunities, thanks to the rapid changes in technology.
Here are three emerging trends in technology in Africa, with a focus on Ghana:
Mobile Money: Mobile money has revolutionized the financial sector in Ghana, with the majority of transactions being made through mobile phones. Small businesses can take advantage of this trend by accepting mobile money payments, which provides a convenient and secure way for customers to make purchases.
E-commerce: The e-commerce industry in Ghana has grown rapidly over the past few years, with more and more people preferring to shop online. Small businesses can take advantage of this trend by creating an online store to expand their customer base and reach a wider audience.
Business Management Software: The use of business management software has become increasingly popular among small businesses in Ghana. Software like Digistore provides a full business suite which can help manage the business efficiently and effectively.
As a small business owner in Ghana, it is important to stay up-to-date with emerging trends and innovations in technology. By adopting new technologies, you can improve your operations, enhance your customer experience and ultimately grow your business.
In conclusion, the future of small businesses in Ghana is bright, and technology will play a critical role in shaping it. By embracing emerging trends and innovations, small businesses can gain a competitive advantage and achieve long-term success. Softwares like Digistore provide an opportunity for small businesses to automate their processes, manage their operations and streamline their workflow, all while saving time and increasing profitability.